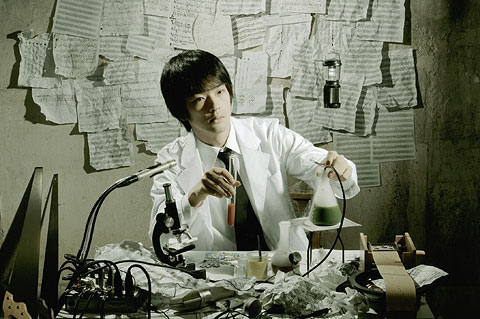 A folksy sound, classic guitar strings, catchy hooks and a feel good vibe that could turn even the most depressed individual into an incurable optimist – this is Shugo Tokumaru's music. The talented Japanese singer/songwriter so far has three albums under his belt – "Night Piece" (2004)," L.S.T" (2005) and Exit (2007) with a fourth one slated for a Japan release on April 21st, called "Port Entropy." I first came into contact with his jovial sound sometime around last year when I landed on his myspace completely by accident; I've never looked back ever since. This is why I'd recommend you check out some of his work, be it on his myspace or any other online streaming services, like YouTube. I'd love to hear some other thoughts.
Below you can stream "Lahaha", a new Tokumaru song featured on the artist's upcoming new album, "Port Entropy".
Big up to Matt from YANP! for posting one of Shugo's tracks of Exit, called "Parachute", which eventually inspired me to draft this post. Speaking of which, you can stream/download Parachute right below – pure gold!