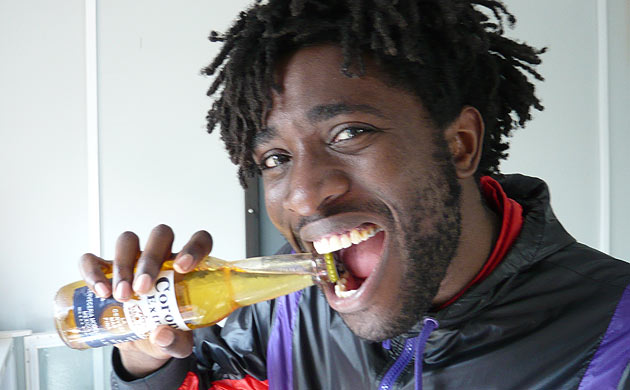 Although Bloc Party still is on a indefinite hiatus, that doesn't seem to stop the band's frontman from expressing himself though a debut solo album. So it has it Kele Okereke, or just Kele as he decided to sign himself, will release "The Boxer", his solo debut, on June 21 in the UK and June 22 in the U.S via Wichita/Polydor and Glassnote.
Okereke recorded the album mainly in New York with producer Alex Epton, aka XXXchange, the Brooklyn-based musician who has crafted the sound of Philly hip hop outfit Spank Rock.
Talking about his upcoming solo effort, Kele stated in a recent press release that "the key for the sound of the record was to take things as harsh and as physical as I could make it. The reason for going there was that these are the sounds that make me the happiest in the world." More clearly, we'll most likely have a dance record on our hands.
"I've been into clubbing for years. I've said from the beginning I'm into dance, it gets me excited and I think this record is going to go some way to prove that to people, hopefully," said Kele.
Check out The Boxer tracklist and Kele's upcoming solo summer tour dates right after the jump.
The Boxer tracklist:
Walk Tall
On the Lam

Tenderoni

The Other Side
Everything You Wanted
New Rules
Unholy Thoughts
Rise
All the Things I Could Never Say
Yesterday's Gone
Kele tour dates:
05-14 Limerick, Ireland – Dolans
05-15 Cork, Ireland – Cyprus Avenue
05-16 Dublin, Ireland – The Academy
05-17 Belfast, Northern Ireland – Spring and Airbrake
05-20 Cologne, Germany – E-Werk (Electronic Beats)
05-21 Hamburg, Germany – Prinzenbarhalle
05-22 Berlin, Germany – Weekend Club
06-12 Manchester, England – Warehouse Project Fest
07-16 Ferropolis, Germany – Melt Festival
08-27 Paris, France – Rock En Seine
08-28 Leeds, England – Leeds Festival
08-29 Reading, England – Reading Festival
08-31 Ibiza, Spain – Ibiza Rocks
[via P4K]